What Most People Don't Know About Systemizing Their Business For More Profit, Working On What They Want, And How Many Hours They Want…
Hey it's Mike Piet.
The NEW business-growth program called "System Secrets" is the most advanced systems and accelerated training program to transform you and your business from a slow-moving overwhelming chaotic client business into a fast growing predictable profit-producing machine is now ready for you…
You'll learn what most people don't know about systemizing their business for more profit (not being stuck at a income level they won't settle for) working on what they want (not doing 101 tasks they don't want to do) how many hours they want (not killing themselves, mentally, physically, socializing in the process of making it happen).
I didn't know these core "secrets" – and at just $10,000 per month and only a handful of clients I was completely STUCK overwhelmed, stressed – with back pain & stressed relationships – all quickly leading to burnout, depressions, and bankruptcy.
…that all CHANGED – when I LEARNED these never-before-seen systems secrets, skills, methods, hacks…
Used To TRIPLE My Business and CUT my Hours Needed by Half
….that I now want to reveal to YOU to use to do the same thing now – for ridiculously low investment of only $297 $97 dollars (with full 30-day 100% money back guarantee).
All you have to do click the link below, fill out the information, and you'll get instant access to this advanced profit-producing transformational training program that very few people will ever know about.

Now, you may want to know more "what" this program "is"…
What This Program Training Is
I was going to explain more on what this training program is all about…
Then I'm like "S-C-R-E-W that."
…I ALREADY did that in detail in the INTRO video – so just watch that now for details what's in this program (it takes 1 minute to register, and you get instant access).
Then… I was going to explain the TRANSFORMATION you and your business will automatically get from going through this program …and I was like "S-C-R-E-W that as well" – it can NOT be done..
You see, me explaining the systemized profit-producing transformation you'll get from this program is like me handing you a menu of food items and saying "here ya go enjoy this."
You follow?
The menu NOT the same thing as the food. The food can only be EXPERIENCED.
Same with this training program, it must be experienced.
I can tell you this about the System Secrets Program:
Formatted in accelerated learning style within videos, audios, fill-in-the-blank templates, and cheat sheets…
Embed with the biggest business systems lessons and secrets I've learned to scale my own SEO business…
Engineered in a way where YOU can USE it to SAVE MONTHS to YEARS of wasted time, money, and effort in scale your digital marketing business…
All Adding Up To Double Your Profit, While Cutting Your Time Needed By The Business By Half
Remember me talking here, and you reading this, is just the "menu" – experience the real thing and profitable results by simply going through the training – that's all you have to do; watch it, get started now, I'll explain the rest within the training program.
You may want to know if this is for you, before getting started.
Who is This For
If you are ever like "HOLY HELL there's so information, so much good information, so much to do, how do I handle it all to make the profit I want? and do it efficiently/at fastest speed, and not die over work or overwhelm when doing this?"
…then this is for you.
And/or if you related to the situation above… then answer these two questions as well:
Are YOU tired of taking the slow bumpy back road to get the business growth and profit you want?

Are YOU ready getting onto the four lane super higher of business growth and profit?
If you answered "YES" to those questions, then this is for you, and you do want to go through this program today – right now.
…before this message and current motivation fades away into the abyss and like Wayne Dyer says happens, "most people die with the music inside of them."
The Path To "someday" leads to a town called "no where".
That's not you.
You wouldn't be here now reading this if you weren't a person who takes quick decisive action.
Enroll, take action now, list to the program for 5 minutes, if you don't like it, then "hey, now you know." BUT that is very unlikely because of this real world experience jam-packed into this training, examples after examples, – and not to mention the dozens and dozens of people that already got so much out of this training…
You may asking is this program legit?
Fair enough.
I'd probably be asking that same thing as well, so here's a small sample of the lessons some people got out of this training so far..
Dozens Have Gone Through This Exact Program Already – And Having Massive Accelerated Systems And Profit-Producing Breakthroughs
Mike here you go.

This is my review of the training.

Overall, what I enjoyed the most about Mike's training is that, when you learn to create systems you can get the overwhelm of the day to day operations out of the way (or other aspects of your life if you want to apply it too). I've actually read somewhere that some members of this group are successfully applying it for showering. I won't give names though (like I won't say Michael Milas or anything like that :P).

Having a clear path-system-procedure to go where you want to go with detailed and organized steps gives you the ability to rely on the system instead of how the weather is today.

If you know that you get x, y, z results, you just need to follow the steps, no matter how you are feeling this day. Knowing that the system get's you means that you can give "the system" to someone else and you know that they will probably get similar results.

AND if they don't get similar results, there is a feedback system to improve that as well or determine if this is not the right person for this system.

Here are just a fraction of "tips" I got out of this program:
Start now creating your own systems.
Create a plan to create a system with a deadline.
Do it from simple to complicated using the "chunk" approach (divide everything into 3 steps and then go deeper).
Have a feedback part in place to give the users of the system the ability to improve it.
Start from the end goal and build the system backwards (maybe I made up this one…)
Use a telescope and microscope (connect the bigger picture and all the parts of the system with each other).
Use the 4 steps of communication with your team and procedures to make the "absorbing/understanding" information part more interesting for them and easier to digest (funny that I wrote a lame job description today).
Be specific with your metrics and goals to minimize confusion and potential misunderstandings.
Focus on what you can control.
Celebrate short term wins while focusing on long term goals.
Include nurturing in your life.
Have your team help systematizing your systems.
I'm going to start implementing into my lead-gen process to improve it.
Overall a great training on how to create and improve systems for your business and life.

Sorry it's a long time coming Mike Piet. Here is a real life example of the first templates (from session 1). After I met with the potential client I felt overwhelmed with the amount of information he gave me. I was also profiling his customer and defining his business needs.

I have since received a bit more info on the above and will need to include it tomorrow. Here is my initial system after the prospect meeting. He currently has a website and has done adwords. https://docs.google.com/presentation/d/1l0YVIVVpOL0HDV-bBFZWss0KhG0EWCedU07ewAHhzys/edit?usp=sharing

This could be then zoomed out and further layers applied.

I am still getting my head around the entire process and need to re-watch some of the lessons. I think the secret systems course is excellent and it is necessary regardless of the size of your business. It encompasses internal processes and yet is client focused and using feedback to refine for better outcomes all round.

Liked the concept of asking questions and answering. Answer what you can and find out the answers to the rest afterwards.

Identifying feedback as an opportunity to improve systems. Track the feedback realistically based on lag/speed.

The transition curve is definitely something I have gone through. Is this all worth it? However, I can see how focusing on the long term gain feels easier because you know you have systems underneath to support that end goal. Love the system plans.

There's so many action-oriented takeaways, but I'll share a few big ones. The biggest takeaway for me is having a holistic view of the entire process and understanding what all of the inputs are to each of the different processes and how to inspect the output. As the old saying goes: "garbage in, garbage out"

I notice a lot of dependencies in between my processes – for example, cannot begin citations until the GMB is verified or site architecture is partly based on the GMB categories.

Having been trained in lean six sigma, the first long video reminded me of the SIPOC model.

As far as the lean methodology, it's all about taking out or reducing the complexity to complete the process, either by automating or outsourcing.

I'm thinking about mapping out my entire process into swim lanes, but I have to identify the "big blocks" first and then chunk those down into bite sized pieces.

Well, that's the short version of what I got out of it…not quite as long as Mike's 1.5 hr mega videos. Lots of good nuggets in there Mike. I'll be watching the rest very soon.

All I asked for was for feedback such as "what did you learn, and how you are going to use?" And as you SAW the responses are truly TRANSFORMATIONAL, inspiring, and business growing and profit producing.
You see, this training (and all my training) is created in a way so you will get the lessons you practically need, along with the core lessons you must know and learn when scaling and growing you digital marketing agency.
So are you ready?
If so, click the link below, fill out your information, and within 20 seconds I'll be talking to you within the program.
Still not convinced?
Really?
Gosh… you are a skeptical son of a…
Kidding 😀
I get it, you must want to know more about the program before taking action, that's cool.
Here's A Small Sample What You'll Learn Inside The System Secrets Program:
Ever feel like this is all complex (SEO, sites, clients, hiring, managing, selling, tracking, etc.) – well IT IS COMPLEX – and complexity is the enemy of action – so here's almost like "magic" method to consistently anything super simple for yourself and to others to be able to take profit-generating action.

You've probably heard "systems are the key to scaling for more profit" right? but what are "systems" really? can you explain it? what are all the parts of the system? and most importantly can you USE systems? All those answers and more revealed in FULL detail never seen before detail to actually understand what the fuck systems are, and how to use them to grow your business quickly.

Have you ever delegated a task to someone and got the OPPOSITE of what you wanted? and where almost like "holy fuck all the energy it took to explain this I could of just done it myself" – here's why that's happening and how to use a easy 4 part formula to fix it for good.

Are you focusing on creating and improving the RIGHT things? Most people are NOT, and yet they THINK they are, which leads to them making minimal or no progress (maybe you have a sense of this already) here's how to fix that to focus and create only what you need to get the outcomes you want in the fastest and expending the least effort and time possible.

Ever get unfocused, unclear, confused, distracted? – leading to hours and hours of time and energy waster. Now you ever realize it's BECAUSE LACK of CLEAR PLAN? …lack of clarity on what you need to do, and how long it will take… etc. – here's how to create a clear simple action and outcome-oriented profit-producing plan in 5 minutes or less.
Okay – does learning and knowing that stuff sound helpful in your pursuit in growing your profitable digital marketing business?
Seriously, does it?
If so, then enroll now and you'll learn all the answers to the questions and much more (if I explained everything you will learn and get we'd be here a long long time).

In fact… if you still want to more about what's in this program – I actually just created this video they help you understand it more:
My Embarrassing (and Hopeful Educational) Rap Video About This Program: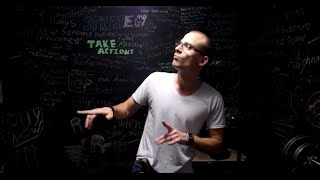 lol.
I tried to do something more entertaining – please don't judge the quality of my rap skills with my presenting of profit-producing breakthroughs.
Still want to more?
You must if you are still reading
So on top of that "glorious" rap video overview…
A More Detailed Overview of The System Secrets Program
I'll give you even more detail of the five core video sessions – and that should give more insight to what this program is all about and what's in it.
Intro: System Secrets
What Most People Don't Know About Scaling Their Business For More Profit and Time-Off
Hey there!
It's Mike Piet,
And I'm about to REVEAL behind the scenes systems access/real examples of systems I'm currently using RIGHT NOW in my own client SEO business that is FINALLY starting to scale (after a painful and stressful period of being stuck around the $10,000 per month mark and just a handful of clients).
This material you are about to get, has been tested with $250,000 dollars of seo clients. It has worked for me. It has worked for others. And it can work for you.
Before we dive in, I only have two questions to ask you:
#1: You know there's a demand for digital marketing services… right?
#2: Are you going to CAPITALIZE on that?
If you answered "YES" and "YES" this is for you, and continue on…
Because here's the thing: to make more MONEY, a lot of it, to stack more CASH in your bank account – and NOT kill yourself with an overload of work (by being the salesperson, the customer manger, the fixer, the leader, the trainer, the business owner, the accountant, the SEO, etc. – all at the same time)…
The ONLY way to get what you really want is to SYSTEMIZE, streamline, organize -with the ability to take the workload off of you and pass on to others/your business, while still keeping the quality of work/results high, to have more profit and free yourself from all the work (AVOIDING chaos, burnout, and business bankruptcy).
I PROMISE, this will positively change the way you operate in a profit-producing and less work way after going over the material…
You see, there are "secrets," things people don't know and don't really teach (for whatever reason, who knows) – there are predictable tools, methods, tricks that I've spent YEARS discovering, testing, and refining – that I want to share with you now in THIS training…
Make sure you download the "Insights & Actions Template" or have something to take notes with!
Then, all you have to do is start now to listen or watch the training material …I'll take care of the rest and explain within the training.
The time is now, watch this "intro" session to set yourself up with the most success and get the most out of it from this program, to scale your business profitably and as fast as possible.
Session #1: Simple Systems
Structuring, Systemizing, Scaling
This MONEY MAKING skill that you are about to learn and master in THIS session has been the CORE of everything I've done and currently do in order to systemize my business successfully…
You MUST truly know, practice, and USE this skill to have success. I'm also going to layer in some SYSTEMS FUNDAMENTALS that if you don't know prevents systemizing effectively, quickly, and profitably.
To get started, just download the blank templates below to use during the training, or have a piece of paper or document to use.
Hit "play" on this training session now and I'll talk to you there.
When ready, hit "play" on this training session now and I'll talk to you there.
Session #2: Predictable Procedures
Procedures That Produce Predictable Results To Replace Yourself
Most people know you must "document" the repeatable work/tasks that need to be done so others can work effectively…
But most people really do NOT know (even if they think they do) how to do this quickly and EFFECTIVELY at all. I know I sure as hell didn't… and I felt STUCK in work hell, long hours, small profits and that dreaded, awful overwhelming workload, because I was doing the most of the work not others.
You see, the thing is, most procedures that are created, 75% of people can NOT understand and use.
Also, most traditional procedures create workers that are dependant on the procedures, and when inevitable small changes or different situations arise, and the person doing the task, doesn't know how to truly adapt, can create small mistakes that create HUGE catastrophes of lost time, money, energy, and effort.
Learning this special proven simple method to document the process to get the predictable outcomes, will allow you to scale your business effectively, faster, and profitably – and most importantly freeing yourself from the work.
That's all I'm going to say for now… watch/listen, be fully engaged mentally, physically, and emotionally to take in this new materiaL that I lay out in the next accelerated training session – all hand delivered to you on a silver platter – so go ahead and hit "play" now – and I'll talk to you then.
Session #3: Follow Feedback
Using Simple Feedback Systems For Scaling Profitably Fast
Ever feel like the there's just too much going on to manage it all?
Or if you have any staff, you are left wondering if they are making effective progress or not…
What you are about to learn in this section – is the most important KEY to scaling your business fast.
…without this knowledge and correct feedback systems in place (which will talk about in this session) you can get into trouble fast, more workload, clients, team members can turn into complete and total chaos…
BOTTOM LINE: you must be able to monitor the feedback to know what's working, what isn't working, what to focus on, what not to focus on, and do that all at an extremely FAST and effective rate or competitors will pass you right by and you'll sadly be left in the dust
This will NOT be you – NOT after this session.
So watch this now – do not delay.
Listen/watch and put what you are about to fully learn into use right away. I will show you what I'm talking about… everything you need to know… and how to implement… ALL in this session. So go ahead and hit "play" now and we'll talk there.
Conclusion: Connecting It All Up
Your Personal and Business Systems Transformations
Let's now CONNECT everything you learned together, summarize, refine, and take it to a new level of understanding, productivity, and profitable implementation to scale your business for more profit and time off.
So go ahead hit that "play" button and I can't wait to talk to you in this final "wrap up" transformational session.
Look I've been there.
…obsessed about growing my business and making more money.
Knowing it's possible (or at least slight clue it is possible)
But there's just so much going on, and so much to do, how do you best cope with that?
And not only "cope" – but really thrive, kick ass, take names, make big things happen and do it as quickly as possible with the least amount of work and effort…
I Reveal All These "Secrets" And More Within This Program…
How to build a real systemized business that not only survives, but this without you – that's what this program is all about and engineered to make happen for you.
The thing is, you must enroll and watch it to make that happen.
I mentioned it early up front, but wanted to make it crystal clear…
100% Money Back Guarantee
If you don't like this program for any reason, you have a full 30 days to refund – no questions or hassle – one email/message about, paypal you the money right back into your account – that's how confident i am in this program.
Bottom line: Systems = Success
It doesn't matter how successful or profitable you are now, or even making little to no money/profit, I promise you, I've now done and taught this long enough that I can tell you this will help you, this will work – that is the POWER of systems thinking and application. You just have to learn about it, then use it. That's it.
So by now you heard enough and are reading to enroll today – 100% absolutely no risk, go over this program and if isn't anything/do what I've said here, I'll fricken help you, coach you, whatever I have to do to help you – that's how committed I am to helping
…that's how much I believe in this program to make your business more systemized and profitable while you having to do less work.
Just click the enroll button below, fill out the information, and I'll talk to you on the other side.
See you on the inside,
Mike Piet
PS: any questions just hit me up on Facebook and I (or someone on my team) will get back to you pretty quickly.